First things first: You're beautiful just as you are. Period.
But even living your best life can take a toll on your skin and nails.
Which is why you deserve a boost — specifically, Beachbody Collagen Boost.
This collagen supplement is a high-quality collagen peptide powder that's been shown to help increase skin elasticity, reduce the appearance of wrinkles, and support healthy nails.
All you need is one small scoop a day and you're on your way to gorgeous skin and nails in as little as 30 days!
Here are even more reasons to add Beachbody Collagen Boost to your daily routine:
Because Beachbody Collagen Boost provides a potent, bioavailable form of collagen peptides, it helps deliver measurable, clinically studied results with just 2.5 g per scoop; no need to store or lug around a huge tub.
Beachbody Collagen Boost is unflavored. You can simply add it to any hot or cold beverage, yogurt, or shake.
Features a patented ingredient that delivers select collagen peptides scientifically shown to help stimulate the body's own collagen production.
No artificial flavors, sweeteners, color, or preservatives.
Single ingredient, no fillers.
Start seeing results in as little as 30 days!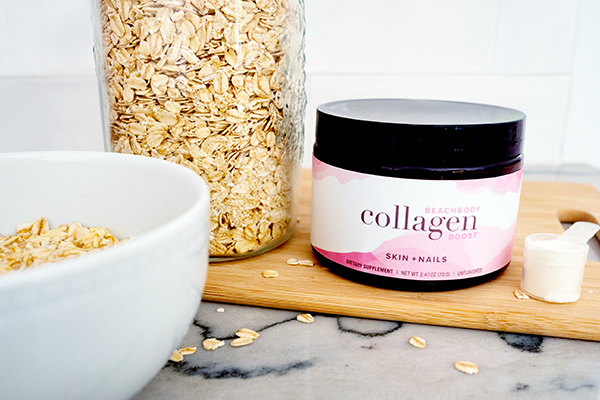 3 Easy Ways to Add Collagen to Your Routine
Add a scoop of Collagen Boost to your daily Shakeology.
Add a scoop to your coffee or tea.
Mix a scoop into your yogurt bowl or soup.
Collagen Powder Benefits
Your body produces collagen, an important structural protein.
Collagen works with another protein called elastin: Collagen fills out your skin, while elastin helps your skin "snap back" when stretched.
But starting at about 20 years old, your collagen levels begin to decline.
Beachbody Collagen Boost is a high-quality collagen peptide powder that can help replenish your body's collagen levels.
Some collagen powders recommend up to a 20-gram serving, but Collagen Boost helps deliver results in a 2.5-gram serving of premium collagen peptides.
Want to learn more about what collagen does and how it works in your body? Click here.
The following two tabs change content below.