Avocados are a healthy fats which is essential for your body and boost brain function. And it also seems to intensify the flavor of chocolate in this recipe and make these brownies ultra rich and decadent…REALLY!  These brownies are gluten-free and so fudgy and moist, you won't even remember how healthy they are!
This recipe is from Team Beachbody and is approved for 21 Day Fix, P90X and other meal plans! YES!!
Total Time: 51 min.
Prep Time: 15 min.
Cooking Time: 36 min.
Yield: 16 servings, 1 brownie each
Ingredients:
Nonstick cooking spray
1 medium ripe avocado, mashed
¼ cup extra-virgin coconut oil, melted (I used unsalted butter since my daughter is allergic to coconut)
1 large egg, lightly beaten
½ cup pure maple syrup (I added about 1/4 cup more because I am a sweetoholic!)
1 tsp. pure vanilla extract
¾ cup unsweetened cocoa powder
½ tsp. sea salt (or Himalayan salt)
¼ cup gluten-free flour
⅓ cup dark chocolate chips
Preparation:
1. Preheat oven to 350° F.
2. Line an 8 x 8-inch baking pan with aluminum foil. Lightly coat with spray. Set aside.
3. Combine avocado, oil, egg, maple syrup, and extract in a medium bowl; mix well. I used a whisk to make sure I got rid of the avocado pieces. Set aside.
4. Combine cocoa powder, salt, and flour in a medium bowl; mix well.
5. Add cocoa powder mixture to avocado mixture; mix well.
6. Add chocolate chips; mix until blended.
7. Pour batter into prepared pan; spread to make even.
8. Bake for 33 to 36 minutes, or until toothpick inserted in center comes out clean.
9. Cool for an hour before removing from pan. Cut into 16 squares.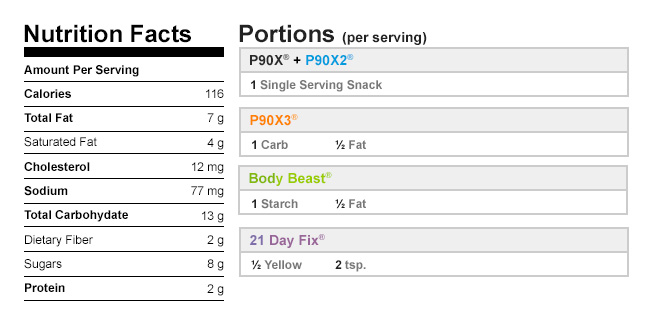 Original recipe posted on the Beachbody Blog here.
The following two tabs change content below.