This is the approach to help you improve your relationship with food!
Do you feel like dieting is a constant war between your desire to get the lean, healthy body you want and eating the food you actually enjoy?
I have helped hundreds of clients with various different approaches to match their needs. But the one thing that has been missing is how to shift our perspective to a more positive relationship with food. What makes the 2B Mindset nutrition program so powerful is that it teaches you how to lose weight without counting calories or exercising.
The creator of the2B Mindset used to be 100 lbs heavier and she has developed a program to help me coach you to FREEDOM. Learn more below and FILL OUT the form at the bottom of this page for more information on how you can join my first, exclusive group following this program!
Who Is the 2B Mindset For?
Anyone who wants to lose weight — happily — so they can keep it off for good!
Those with food allergies so prescriptive diets do not work.
Those frustrated with the deprivation of traditional diets.
People overwhelmed with all the weight-loss products/info out there.
Anyone challenged by junk-food cravings.
Those for whom other diets have not been successful in the past.
If you are someone who loves eating out, hates to cook, beats yourself up over over eating, loves to eat big portions, a late night snacker, loves to travel but doesn't know how to stay on track, doesn't want or like to workout, or maybe you love to workout but struggle with food…then this simple guide for how to be emotionally FREE from food, this is for you!!!!
The Undiet
"Diet" really means is deprivation. Any eating program based on deprivation would never work for Ilana.
The creator of this program, Ilana, like many of us, always loved food and loves to eat large portions. What we need is a diet that let's us eat and feel satisfied, while still helping us lose weight. There was no diet on the market like that — so Ilana decided to create it herself.
She not only invented a solution to solve her own weight problem, so she could lose 100 pounds, she made it her career as a Registered Dietitian Nutritionist — so she could help anyone lose weight happily and learn how to keep it off for good — and still go on living her life and enjoying the foods she loves.
Her name is Ilana Muhlstein, co-creator of the 2B Mindset, and her mission is to help millions of people just like you win the weight-loss battle — and better yet, end the war forever with the support of me as your coach.
The system she created is a healthy approach to eating that lets you feel full and satisfied while arming you with proven strategies that will help you co-exist with food in real-world situations, satisfy cravings, and anticipate setbacks before they happen — so you can win the weight-loss struggle every single time.
That's why it's NOT a diet. It's a mindset.
But make no mistake, the 2B Mindset can help you lose weight — happily — without feeling deprived or hungry, without exercising, without counting calories, or cutting out whole food groups.
The 2B Mindset addresses the number one issue with weight loss and weight management — food. Exercise is critical for living a healthy, functional life, but as they say, abs are made in the kitchen — and that's the problem the 2B Mindset was designed to solve.
Ilana Struggled With Weight Loss, Too
Here is her story:
"I was only 8 years old when our family doctor told me I needed to go on a diet. Not knowing what to do, my parents started sending me away to weight-loss camp — "fat camp" — every summer. Can you imagine how that felt?
I'd lose weight, then gain it all back and more when I'd go back to school in the fall. I yo-yo dieted like that through my childhood and teen years until at my heaviest, I weighed 215 pounds and wore a size 20. And I can tell you, the emotional toll of that cycle was devastating.
But I'm happy to say, there's hope for all of us if we take a different approach to food than what the best sellers and fad diets have been telling us for years.
Since swearing off diets and taking matters into my own hands, I've not only lost 100 pounds, I've done it happily — without telling myself I can't have sweets or treats or anything else.
With the 2B Mindset I can tell you that I'm happier now and able to enjoy my life like never before — and now I want the same for you."
If you want to learn more about Ilana's story, click here for her 8 minute personal video.
You Can Live Your Life and Still Lose Weight!
The good news is, the 2B Mindset is simple to follow. We have hundreds of success stories from clients who have lost the weight and learned how to keep it off using these methods.
This program will teach you simple strategies to get you drinking more water ("More Water, More Weight Loss") Veggies will become your best friend, once we'll show you how to prepare them.
And we'll shatter the myth that the bathroom scale is your enemy — in fact, you're going to love the scale because we're going to show you how to use it as a powerful weight loss tool.
Best of all, we'll reveal the one daily habit — so simple and powerful — that it will put you in an instant weight-loss mode, whenever you try it. You'll need to make sure to get the complete 2B Mindset program from me for this game changer!
With the 2B Mindset, you'll live your life, you'll eat food the way you like it, and you'll go to every party, and go out to dinner with confidence, instead of feeling tension and anxiety that you're about to derail your weight-loss progress.
In fact, once you learn the 2B Mindset, those situations can actually contribute to your weight-loss progress.
Because, with the 2B Mindset, you'll finally be in total control of food and your body, and you'll have all the tools you need to reach your weight-loss goals while living a full, rich, satisfying life.
We'll teach you the purpose of the foods we eat and when and how to enjoy them for maximum weight loss. We'll share dozens of recipes for healthy meals that taste so good you won't believe how much you can eat!
And we'll lay out all the techniques Ilana used to lose 100 pounds — and her private practice clients have used to lose the weight and help keep it off.
Most importantly, we'll help you shift your mindset, because a positive mindset means a positive and healthy weight loss, with no more emotional eating, no more mindless snacking, and no more punishing yourself for eating food you love.
With the 2B Mindset, I have just one goal — to make losing weight simple, enjoyable, and sustainable. You really can lose weight and be happy for the rest of your life. Just imagine that!
With this program and my support as your Coach, you can accomplish your weight-loss goals and experience the joy and freedom that come with being your best.
Once you master the 2B Mindset, it's yours for life. Losing the weight and keeping it off will be second nature — it will be your new reality — and food will forever remain an enjoyable part of your life.
Believe me, it's easy to lose weight when you're feeling full and satisfied every day.
Want to see some results?
Check out these 2B Mindset results below and hear how this nutrition program helped them finally win their weight-loss battles, and how it's changed their lives in amazing ways. 
Lakmini B. lost 73 pounds 
"Not only am I 73 pounds lighter, but I feel like I can take on the world. I've never felt so vital or content. Because Ilana understands we are all different, I learned so much about myself on this program — not just which foods aid in weight loss — but about trusting myself, learning not to emotionally eat, recognizing signs of true hunger, and learning what it is to be satisfied. With the 2B Mindset, you'll actually enjoy weight loss," says Lakmini.
Imani B. lost 22.5 pounds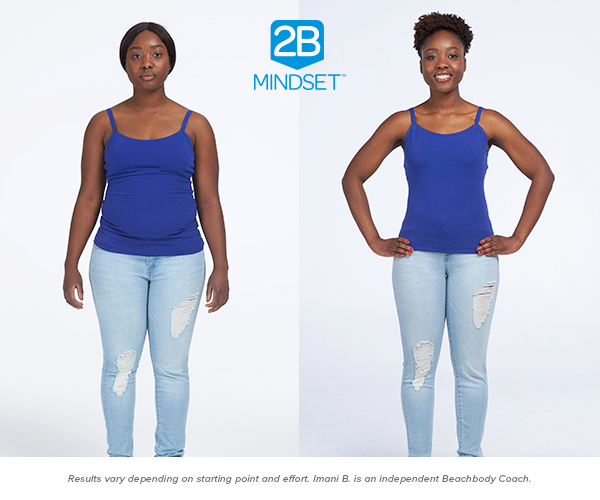 "After that first week, losing seven pounds, I knew I'd found the perfect program for me. Because I'm able to eat the same foods as everyone else, go back for seconds, and still lose weight. My weight loss is a lifestyle. It's an awareness rather than a goal. It's not a temporary fix. A 'diet' is temporary. A 'diet' means you get to your goal and you stop — which is the exact opposite of how weight loss works. A mindset lasts forever. I can do the 2B Mindset for life," says Imani.
Nathaniel G. lost 35 pounds 
"I've never lost 35 pounds before. This is the first time. I don't feel hungry. I don't feel starved. The things I craved before, I no longer do… I eat more in volume and variety than I did before. I don't consider the 2B Mindset a diet; I consider it a lifestyle change — and it's made the hugest change in my life. I feel fantastic and I want to maintain the way I feel. With the 2B Mindset, I have all the tools in my possession," says Nathaniel.
 Lillian P. lost 30 pounds 
If you are interested in learning more and how my support and accountability group can help you succeed, fill out the form below.
The following two tabs change content below.